Vs.3 is coming soon!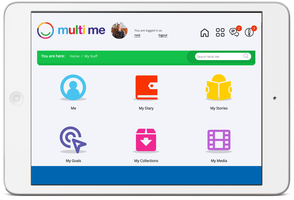 Over the last year we have been listening very carefully to our user community at multi me and have been buisily gathering feedback for version 3.
In Vs.3 we have refined and improved the system to make it easier to use and more effective in many ways for our users. Version 3 sees some major improvements to the site in general as well as the introduction of a new feature called 'My Diary'. 'My Diary' is a simple multi-media diary and blogging tool that can link to a user's Goals and Goal Tasks, it also provides a vital communications logbook for a user's 'Circle of Support'.
We have also improved the site for teaching staff and proffessionals managing many users, Groups and Goals from a single account.
Vs.3.0 update will include:
New My Diary feature
New Add Stickers to entries across the site
Updated My Media area
Updated Goals area
UpdatedMy Collections'
General improvements to user interface and mobile optimisation
General security improcements and bug fixes
Vs.3.1 update will include:
Updated Community Admin page to manage users, Buddies and groups
Updated Buddy Section
Vs.3.2 update will include:
New 'My Circle' area (Combining 'My Friends' and 'My Circle Community')
Updated Groups area
New Circle Admin area