Version 2.01 coming soon!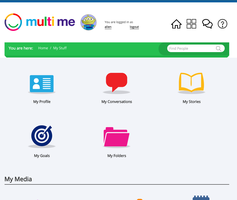 We have been working hard to improve the experience of Multi Me for our users and have busy gathering feedback from you all since the release of Version 2 back in September. In response to this feedback we have now made a number of changes to improve and simplify the platform and will be rolling these changes out to all our users over the next few days.
Changes in Vs.2.01 include:
Fixes to iPad/iPhone picture orientation issue. Multi Me now recognises which way round you take your picture on your iOS device and will display it on Multi Me correctly. Users should now be able to take a picture from any angle on their iPhone/iPad without having to try to rotate the picture on Multi Me.

Fixes to video thumbnail display and support for portrait orientation for video on iOS

Simplification and refinment of Multi Me user interface including:

Addition of new Multi Me logo

Removal of secondary navigational bar that was using up too much 'real-estate' on the page, especially for low resolution screens

Addition of 'My Stuff' and 'My Requests' icons in top navigational bar

Removal of 'My Communities', My Events' and 'My Friends' icons from the 'My Stuff' workspace. These items can be accessed easily from the 'Quickemenu' on the home page
Please find link to PDF showing the changes that will be rolled out over the next few days. Please feel free to contact us if you have any questions.