New accessible Calendar feature!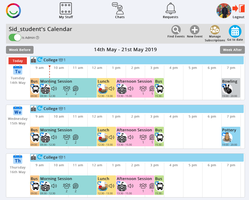 The accessible calendar feature gives our users a quick visual and audio overview of their Calendar of activities and allows users and their Circle of Support to link personal Goals and Tasks to Events and create Diary entries about Events. Some of the new features in the Calendar update include:
New accessible Calendar Events overview page
Ability to create repeat Events, for example I can add my daily activities at School or College, I can also add personal Events such as going for my daily walk, having breakfast or brushing my teeth!
Ability to subscribe to Group Events, for example I go to the Social Club every Tues night so I can add this Event to my Calendar
Ability to link (set) Goals and Tasks to specific Events or a number of repeat Events, for example on Saturday afternoon I go shopping, I can link my Independance and Living Skills Goal to this activity
Ability to create Diary entries and Logs about Events and for these to be auto linked to any Goal Tasks set
Ability for Buddy to manage Supported User Calendars
Mobile optimised layout
To see tutorials about the new Calendar feature please see the Help menu on the right after you have logged in.