MultiMe SG! (South Gloucestershire)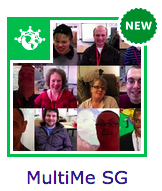 We are excited to announce that MultiMe has been funded by South Gloucestershire County Council to work in partnership with SGS College Filton to provide FREE:
10 week introductory course for adults with a learning disability in South Gloucestershire including;
Access to state-of-the-art multimedia facilities at SGS College Filton
Use of the MultiMe secure social networking platform for 12mths
Workshops for parents and professionals
Taster days and trials for providers in South Gloucestershire
Bob Rose, Head of Department Preparation for Work & Life said: "This is an exceptionally exciting concept which enables the learners to record their evidence of progression, in a innovative and dynamic way, at the same time allowing for a rigorous, robust and 'safe use for learners' quality assurance system. We are delighted to be working in partnership with MultiMe, at a time when social networking and media concepts are at the forefront of a technology revolution in FE."
If you live in South Gloucestershire and are interested in participating in MultiMe SG Please let us know!
Please contact charlie@multime.com for more information or call MultiMe on 01223 269 279