Coleg Cambria Northop Graduation Day!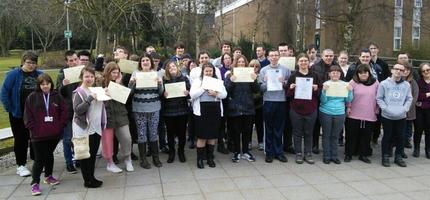 Staff and students within the Independent Living Skills department at Coleg Cambria Northop have been working closely with the Disability Services team at Flintshire County Council over recent months.
The Disability Services team have been exploring ways to use multi-media and an online social networking platform to improve the communication and review process for their service users with learning disabilities.
In October Angela Wilson, Team Manager for Disability Services at the Council launched a 3 month trial of a safe social networking site called Multi Me which has been designed specifically for users with additional needs. (www.multime.com)
Coleg Cambria hosted the trial at their Northop site and supported a range of external groups to participate in the Multi Me project. In addition a group of the college's Independent Living Skills students were able to participate.
Charlie Levinson, Managing Director of Multi Me said:
"Working with Flintshire County Council, Coleg Cambria, Tri Fford and other services over the last year has been a real pleasure. It is amazing and touching to see what people with a learning disability and their supporters have achieved on Multi Me so far.
"We are looking forward to continuing our work with Flintshire County Council over the next year to make the secure social network available to more people and embedded in more services there.
Paul Raven, Deputy Director for Independent Living Skills at Coleg Cambria said:
"We were very pleased to have supported this interesting & worthwhile project. A number of our students also access support from the Flintshire Disability Services team and they all enjoyed the opportunity to participate. At the end of the trial the college hosted a Celebration Event for families and external support workers where each participant had the opportunity to showcase their achievements".