Multi Me Kick-Start - calling all Local Authorities!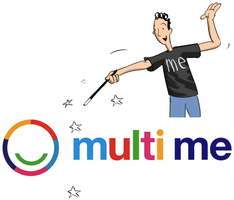 We are offering an exclusive software and training package to all UK Local Authorities
Our Local Authority package is an opportunity to kick-start Multi Me in your region. It gives people with learning disabilities, their families, professionals and service providers the chance to try Multi Me for themselves and connect to others in their local area. Click here to download the flyer.
The Package includes the following:
NEW Multi Me secure social platform Version 2. Including multi-media based communication and person centred planning tools for individuals and their support networks
NEW

Multi Me 'Community Portal' area for Local Authority administrators
NEW

'My Circle Community' for individuals and families, providing a secure social online Circle of Support platform managed by the user's Buddy
Multi-media and

online person centred planning w

orkshops for

people with learning disabilities and their supporters
Training for carers, families and professionals
Taster Communities for local providers
Multi Me is a new person-centred, secure online support tool, developed for and used by people with learning disabilities and their families and supporters.
Multi Me offers the opportunity to transform current systems by bringing together the latest technology and social media approaches to create unique and powerful online person centred working, planning and multimedia-based advocacy.
The tool facilitates shared decision making and co-production between people with learning disabilities, their families, Circles of Support and the services and key professionals that support them, whether they be in health, education, social care or justice services. The opportunities are limitless and apply to vulnerable people across all services and supports with a potential world-wide application.
For more information and for prices please contact:
Telephone: 01453 799818
Email: info@multime.com